Welcome to the Jenkins Hyundai of Lithia Springs Parts Page, your online portal for all your Hyundai parts and accessories needs. From here, you have all the resources to search for parts, order them online, and schedule the installation. We want your Hyundai ownership experience to exceed your expectations for as long as you own your car. As a result, we're committed to using only genuine original equipment manufacturer (OEM) Hyundai parts and accessories for all our services.
Whether you plan to perform routine maintenance like an oil change or accessorize your Hyundai from your home garage, we suggest you order the necessary parts from Jenkins Hyundai of Lithia Springs . Ordering from us guarantees you'll receive genuine OEM Hyundai parts at competitive prices. Call us to place your order over the phone, or use our online parts order form. We'll assemble your order and notify you when it's ready.
Why Use Genuine OEM Hyundai Parts?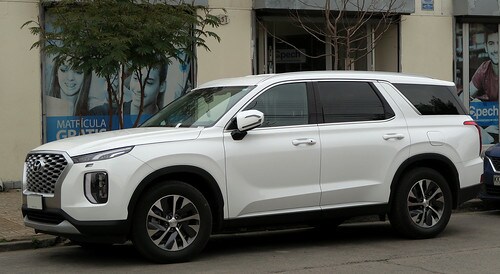 Hyundai Palisade 2.2D Premium AWD 2021 by RLGNZLZ is licensed with CC BY-SA 2.0
The longer you've owned a car, the more likely you've encountered aftermarket parts. Maybe your corner garage offered them to you on a routine repair to save you money. Perhaps a national parts store chain employee suggested an aftermarket alternative because the OEM part was out of stock. Many customers find aftermarket parts and accessories while shopping online, advertised to match the originals.
Unfortunately, many customers don't understand the critical reason for choosing parts designated as OEM. These parts are the exact match for the original part installed on your Hyundai when it was first built. Hyundai designed each piece to precise specifications in fit, function, and materials. Replacing a part with OEM Hyundai parts guarantees optimal performance and will last longer.
No matter how you hear about aftermarket parts, knowing the difference can help save you money and avoid future hassles. First, aftermarket parts manufacturers don't adhere to the same strict standards as genuine OEM Hyundai parts manufacturers. The piece must fit and work to qualify as a match to our OEM part.
However, using lower-quality materials to construct the part often leads to failure much sooner than the OEM equivalent. Compounding the problem, aftermarket parts manufacturers often make the same part for several vehicles, sometimes even for different manufacturers. So you can't expect a single component to fit a Hyundai Elantra and another brand and work the same.
Sometimes the part doesn't fit because it's too wide or long, or the connections don't line up correctly. Other times, the part doesn't operate to the exact technical specifications, which leads to subpar performance and lower efficiency. In the end, if the fit isn't quite right, it doesn't work correctly, or it fails sooner, you haven't saved any money. Instead, you'll spend even more money replacing the part again.
Lastly, many people don't realize that using aftermarket parts and accessories can void your Hyundai's warranty. You've invested your hard-earned money in your new Hyundai. It only makes sense to protect that investment using genuine OEM Hyundai parts for all your work. If cost is an issue, we offer service and parts financing to make paying for parts and repairs more accessible.
The Hyundai Difference
Hyundai has earned its reputation for delivering high-quality vehicles you can rely on for many years. When you purchase a new Hyundai, you only need to keep up with routine services such as oil changes and tire rotations to keep your car running its best. That's because Hyundai uses parts of the highest quality in manufacturing your vehicle.
This quality standard extends to the amount of wear these parts can withstand. For example, Hyundai designed brake pads to fit specific vehicles to ensure longer-lasting peak performance. The same holds true for many other parts that need replacing from time to time, such as wiper blades, cabin air filters, and engine air filters. Even your Hyundai tires were selected to provide optimal traction with minimal wear. Replacing these parts with genuine OEM Hyundai parts will keep your car running better and longer.
Genuine OEM Hyundai Accessories
Our customers often want to customize their new vehicles, adding a bit of personal style with accessories. At Jenkins Hyundai of Lithia Springs , we have an expansive inventory of genuine OEM Hyundai accessories at competitive prices. And in most cases, we can install them the same day. For example, you can upgrade your Hyundai with custom wheels or cargo roof racks. Inside, you can add premium floor and cargo liners or pet-friendly equipment like a seat cover or hammock. We even have a line of Hyundai brand electronics, including portable jump kits, flashlights, emergency roadside equipment, and more.
World Class Hyundai Service
Our DIY customers hold a near and dear spot in our hearts because they love their Hyundai vehicles as much as we do. Our parts department technicians love talking with you, whether it's working through a particularly challenging repair or simply talking shop. Whatever your reason, our technicians stand ready to help.
If you need help completing a repair, our service center will be here to assist you. For example, maybe a part broke while removing it, or you need a specialty tool. Bring your Hyundai to us, and we'll get the problem fixed. We provide our technicians with continuous training to keep them up to date on the latest parts and repair practices. In addition, they have decades of experience, so they know what to look for and how to fix the issue fast.
Our state-of-the-art service center uses the latest tools and equipment to diagnose and repair all your automotive issues. As a result, you'll drive away knowing your Hyundai will run the way the manufacturer intended from day one. We've streamlined the process with our online service scheduler. You can choose the day and time of your appointment and rest easy knowing a qualified technician will help.
Genuine OEM Hyundai Parts In Lithia Springs, Georgia
Whether you live in Fairburn, Villa Rica, Marietta, or Atlanta, our convenient location in Lithia Springs makes us the logical place to shop for all your Hyundai parts and accessories. And our expansive inventory and competitive prices mean you'll find what you need right here. So don't compromise with aftermarket parts. Instead, rely on the high quality of genuine OEM Hyundai parts.
To speak to our parts department or place an order, feel free to call us at 855-655-8125. You can always search for parts and order online if you know what you need. Of course, if you need help, visit our parts department on Thornton Road at your convenience. One of our friendly, knowledgeable staff will answer all your questions and get you the parts you need.